Hey, I try to keep the blog pretty politic free, but I'm worried about Prop 8.
From the Chronicle
:
A majority of California voters oppose Proposition 8, a ballot initiative that would ban same-sex marriage in the state, but a new statewide poll shows that the gap has narrowed in the past month... the battle over Prop. 8, which supporters and opponents have described as the second most important contest in the nation, is drawing increasing attention. The poll suggests the race is anything but over.
If you live in California, consider volunteering some time for the No campaign. Here's a link to ways you can volunteer and an encouraging video.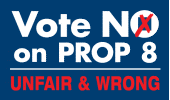 No on Prop 8.
I can never quite bring myself to volunteer for the Dems, but I'm going to try and put some time in calling on this issue, because there's all kinds of nasty lies being spread by the Yes campaign, and it's super important people make an informed decision and don't amend the constitution over a wedge social issue. Plus the recent spate of gay marriages (especially the
painfully cute celebrity ones
) has really been tipping the scales in my love/hate relationship with this state. Don't make me move!